Products
Sanjel Energy Services has a diverse and comprehensive line of products to deliver higher Environmental, Social and Governance (ESG) standards, as well as the desired well integrity for any type of cementing application in the WCSB. With a team of skilled experts and a full suite of both standard and specialized slurries, we deliver the solutions for your situation and budget.
Using sophisticated laboratory equipment, all our blends are tested under downhole conditions to ensure optimal performance. With the proven success of our innovative and solutions focused products, Sanjel Energy Services' aims to always exceed your expectations.
Sanjel Energy's ECObase cement blends reduce the carbon footprint and Greenhouse Warming Potential (GWP) per tonne of cement by more than 25 percent compared to Class C and Class G cements. ECObase cements support the industry's commitment to reduced carbon emissions, contributing to both our clients' and Sanjel Energy's ESG goals. These cements preserve the desired mechanical properties and proven performance of Sanjel Energy's cement blends and are an ideal choice for a multitude of subterranean applications across the Western Canadian Sedimentary Basin and beyond.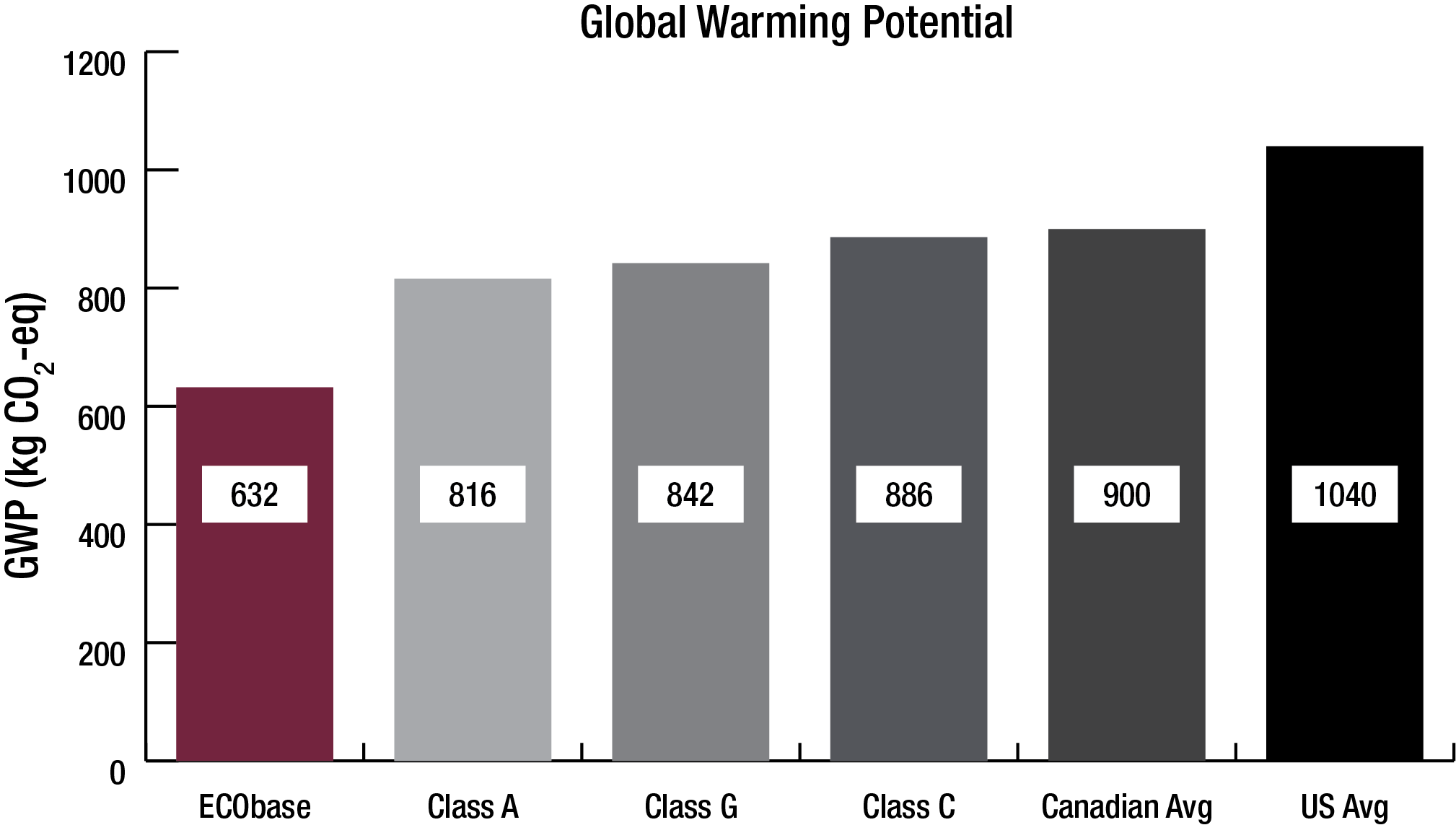 Sanjel Energy's cement blends are grouped by common technology or common well applications to provide the best solution for any challenge.
ECObase / Neat Cements
Sanjel Energy utilizes several types of base cements to provide the best performance possible while maintaining quality and consistency.
API Class C and Class G
Industry standard API grade cements
ECObase
Low carbon cement base manufactured from intergrinding traditional clinker with supplementary cementing materials to create a product with improved physical and chemical properties, high sulphate resistance all with a lower greenhouse gas impact to the environment.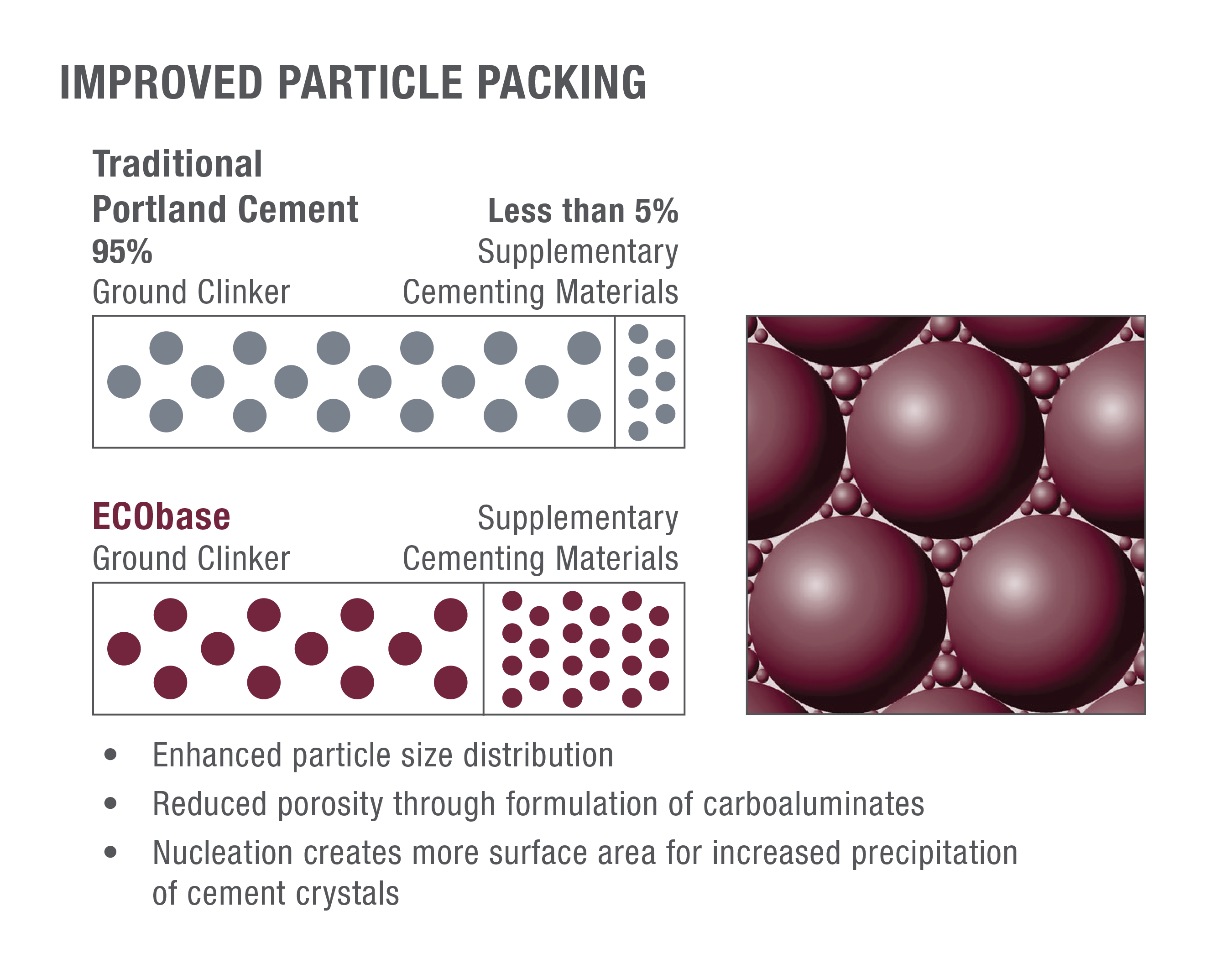 Pozzolan Cements
Mixtures of flyash and cement have been very standard but are currently being optimized to provide unique benefits in today's horizontal wellbores.
Thermal Cements
Thermally stable cement blends for use in high temperature wells. These may be deep unconventional shale wells or shallow oil sands wells utilizing steam injection for oil production. Mixes may also contain performance attributes of other families such as flexible or expansive.
Sanjel Energy has three distinct families of Thermal Cements: Thermal 40, ECOproteus, & THERMAmix.
Applications
Segments of any well which will experience temperatures over 115°C (240°F) at any point in the life of the well
Thermal Cements can be thermally stimulated up to a well temperature of 360°C (680°F)
Areas in which regulations state a thermal cement must be used
Features
Contains silica flour, typically either a 200 or 325 mesh grade
Concentration of silica flour may vary from 35-45% depending on the purity of the silica and the well application
SLW blends contain hollow beads to reduce density while maintaining strength and well integrity
EXP and PRO blends are thixotropic meaning they will quickly gel up upon becoming static in the well to prevent losses to the formation and resist formation fluid or gas invasion
ECOproteus blends utilize a low carbon cement base
Benefits
Eliminates strength retrogression at high temperatures
Maintains low permeability throughout well life
Thixotropic blends reduce lost circulation and gas migration
EXP and PRO blends contain expansion agents to improve bonds in the annulus
ECOproteus blends have a lower greenhouse gas impact than traditional cements
SURFACEmix
Blends designed to ensure well integrity over surface formations and groundwater sources. We have a variety of density and economic choices for downhole performance and to reduce the time the drilling rig is waiting on the cement.
Applications
Wellbores that cannot withstand the hydrostatic pressure of conventional high density surface cements
Wells where a shorter wait on cement time is desired
Wells where shallow fluids or gas present a risk to the surface wellbore integrity
Features
Lower density than typical surface cements
Variable density blends to produce affect wait on cement time, cost, or hydrostatic pressure
Compatible with fluid loss and free water additives for enhanced performance
Benefits
Improved well integrity
Critical intervals less than 30 minutes even at low temperatures
Lower density slurry options
Wait on cement time is comparable or shorter to conventional Class G cements Higher yields compared to traditional surface cements helps to reduce cost
ECOlite
Lightweight cements utilizing specialized chemistry and low-density cementing materials that are utilized to lower the hydrostatic pressure in wells with long cement columns or weak formations at any temperature.
Applications
Typically intermediate or production casing covering potential lost circulation zones
Wellbores suited to economic fill cements
Wells where a stage tool could compromise wellbore integrity
Features
ECOlite blends are created using a low carbon cement base
No hollow spheres or bubbles that are susceptible to crushing under pressure
Variable densities to ensure lead cement correctly fits in recommended density hierarchy
Different cement bases to achieve desired compressive strength
Ability to pair with a number of lost circulation materials to avoid lost circulation
Benefits
Lowers the hydrostatic pressure in the wellbore
Eliminates the need for stage tools, saving time and cost
Higher yield reduces cementing costs
Meets or exceeds regulatory requirements
Safer and simpler operation compared to foam cementing operation
Lower greenhouse gas impact than traditional cements
ECOsuperlitemix / SUPERLITEmix
Ultra-lightweight cements that contain glass or ceramic beads to reduce density to that near or below water while still ensuring well integrity.
ECOsuperlite blends utilize a lower carbon base cement where applicable to get good performance at downhole temperatures and densities
Applications
Production and intermediate casing strings across weak formations
Used when hydrostatic pressures must be kept to a minimum
Higher compressive strength than typical low density blends using extenders
Simplified alternative to foam cementing
Features
Bubbles or ceramic spheres have various pressure ratings depending on expected wellbore pressure
High solids content leads to low permeability, good compressive and tensile strength development
Fluid loss and free water additives can be incorporated as needed
ECOlite blends are created using a low carbon cement base
Benefits
Able to place longer columns of cement, eliminating the need for stage tools
Designed to meet or exceed applicable regulatory requirements
Good mechanical properties provide integrity before, during and after well completion stresses
Safer and simpler operation compared to energized foam cementing
ECOsuperlite blends have a lower greenhouse gas impact than traditional cements
Production Cements
Sanjel Energy has three distinct families of production cements: PRODUCTIONmix, ECOprime, and ECObond.
High performance blends created with the total well life in mind addressing both the short and long-term risks to the cement sheath. Contains customized additives to protect and isolate the producing zones in the well.
PRODUCTIOmix mix cements are generally more specific and have a specialized purpose while ECOprime and ECObond can be optimized to several densities and additive combinations for a wide range of applications.
Applications
Tail cements on intermediate and production casings
Regions with a history of gas migration
Casings that experience multistage fracturing treatments
Features
Protection from gas migration though optimizing solids volume fraction, critical interval and controlling slurry fluid properties
Contain a mixture of cementing products to improve the mechanical properties to withstand wellbore stresses
Lightweight (LW) options utilize performance cementing products to create high solid volume fraction slurries
ECObond and ECOprime are created with a lower carbon base cement
Benefits
Slurry properties such as fluid loss, free water and static gel strength are enhanced to control gas migration
Low density options for weak or under-pressured zones
PRODUCTIONmix blends have the option to contain expansion additives to ensure a superior bond in the producing zone
ECO blends have a lower greenhouse gas impact than traditional cements
EXPANDOmix
Cement blends that exhibit post set expansion. After this cement has set, it will continue to react over a number of days and weeks to expand in the wellbore to improve the overall zonal isolation. Blends are available for any temperature or application.
Applications
Wells with potential for gas migration or surface casing vent flows
Acid gas injection wells
Shallow wells prone to lost circulation
Remedial situations with high formation feed rates
Features
All blends contain set expansion technology relevant to their intended applications and temperature ranges
Low permeability to resist gas migration and acid gas corrosion
Benefits
Expands after setting to improve isolation between formations
Short critical interval limits the chance of gas migration
Thixotropic at low temperatures to reduce lost circulation
REMEDIALmix
Microfine and Thixotropic cement designs to successfully repair or abandon wells regardless of feed rates or temperatures.
Applications
Cements which are ideal for surface casing vent flow and gas migration repairs
Casing corrosion, leaking casing collars, or any similar problem
Low feed rates
Features
Particle size: 90% of the cement particles are smaller than 15 microns
Low viscosity (approximately 35 cP)
Density can be changed to manipulate slurry properties for specific applications
Benefits
Controlled particle size distribution that aids in controlling viscosity and flow properties, enabling the slurry to penetrate into very small channels in the formation
Low permeability cement prevents gas from migrating through
Build compressive strength quickly to prevent channeling to occur in transition phase
ECOgrout
ECOgrout cements are a variation of slurries created for cementing work outside of typical wells where slurry properties often have unique requirements. ECOgrouts are made with low carbon base cement to reduce greenhouse gas impacts compared to traditional cement.
Applications
Pipeline crossings and abandonments
Mine cavern remediation and abandonment
Soil stabilization
Features
Variable densities to control ultimate compressive strength
Engineered products to reduce total cement ratio in the slurry to reduce strength and cost on large pours
Pozzolan components to improve set cement properties
Non-Chloride accelerators
Benefits
Noncorrosive mixture
Lower carbon cement blend
Low permeability due to engineered base cement
Cost effective