Canada-Wide Coverage
Positioned to provide efficient Canada-wide service.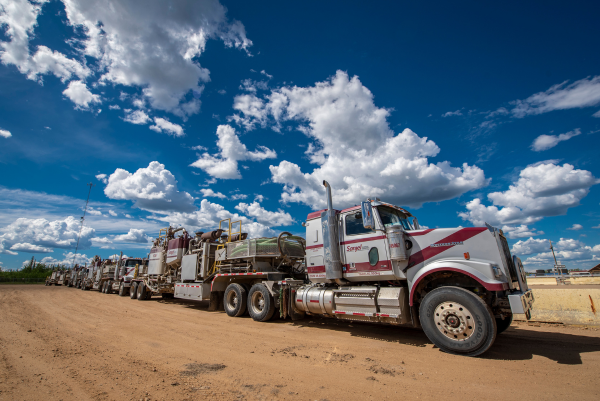 Whether your small- or large-scale project is remotely located, not near established cement/grout providers, or requires dedicated pumping services, Sanjel Energy is qualified to execute your cementing or grouting project. Sanjel Energy has experience with projects throughout the Western Canadian Sedimentary Basin, Northern Saskatchewan, NEBC, NWT, Yukon, Quebec, and Ontario.
The successful execution of projects relies on extensive pre-planning, collaboration and support. Sanjel Energy's specialized cementing and grouting technology is tailored to meet your project's unique challenges while supporting the life of your well.
Sanjel Energy is available to support your remote project's requirements anywhere in Canada with:
Cement pumpers capable of pressure up to 15,000 psi
Remote project support, including but not limited to dedicated coordinators, maintenance tents, storage sea cans, storage silos, mobile cement bulk plants, and 24-hour pumping operations
Recent Projects
Norman Wells, NWT – Sanjel Energy worked collaboratively with our client to move equipment and bulk cement in on scheduled barge dates and complete a campaign of wells efficiently and effectively with little to no safety net for parts and products.

Quebec – We have completed several campaigns in Quebec to remediate wells with unknown cementing requirements. With careful planning, all necessary parts and potential technology required were shipped in sea cans to support a short but intense well treatment schedule.

Uranium Mine (Northern Saskatchewan) – Considered a mega project, Sanjel Energy blended, hauled and stored thousands of tonnes of cement for a specialized cementing application. At times cement was continuously mixed and placed for over 16 hours straight in a very remote part of Northern Saskatchewan.

North of Fort McMurray – Sanjel Energy mobilizes people and equipment every winter to support our client's exploratory corehole projects. This often consists of portable bulk plants, bulk product storage, maintenance tents, parts containers, etc. These operations are remotely self-sufficient, with only regular loads of bulk product hauled to keep operations moving efficiently.

NE British Columbia Abandonments – Sanjel Energy often supports clients in remote areas in NE British Columbia to complete remedial work on some of the hottest wells in Canada in the Liard Basin. Often the complete technical scope of these wells is unknown until work begins. Sanjel Energy has a flexible set of remedial cements both conventional and microfine, along with additives that can be prehydrated to quickly deliver a solution practically in real-time.