Curing Lost Circulation
Solutions to manage your lost circulation challenges.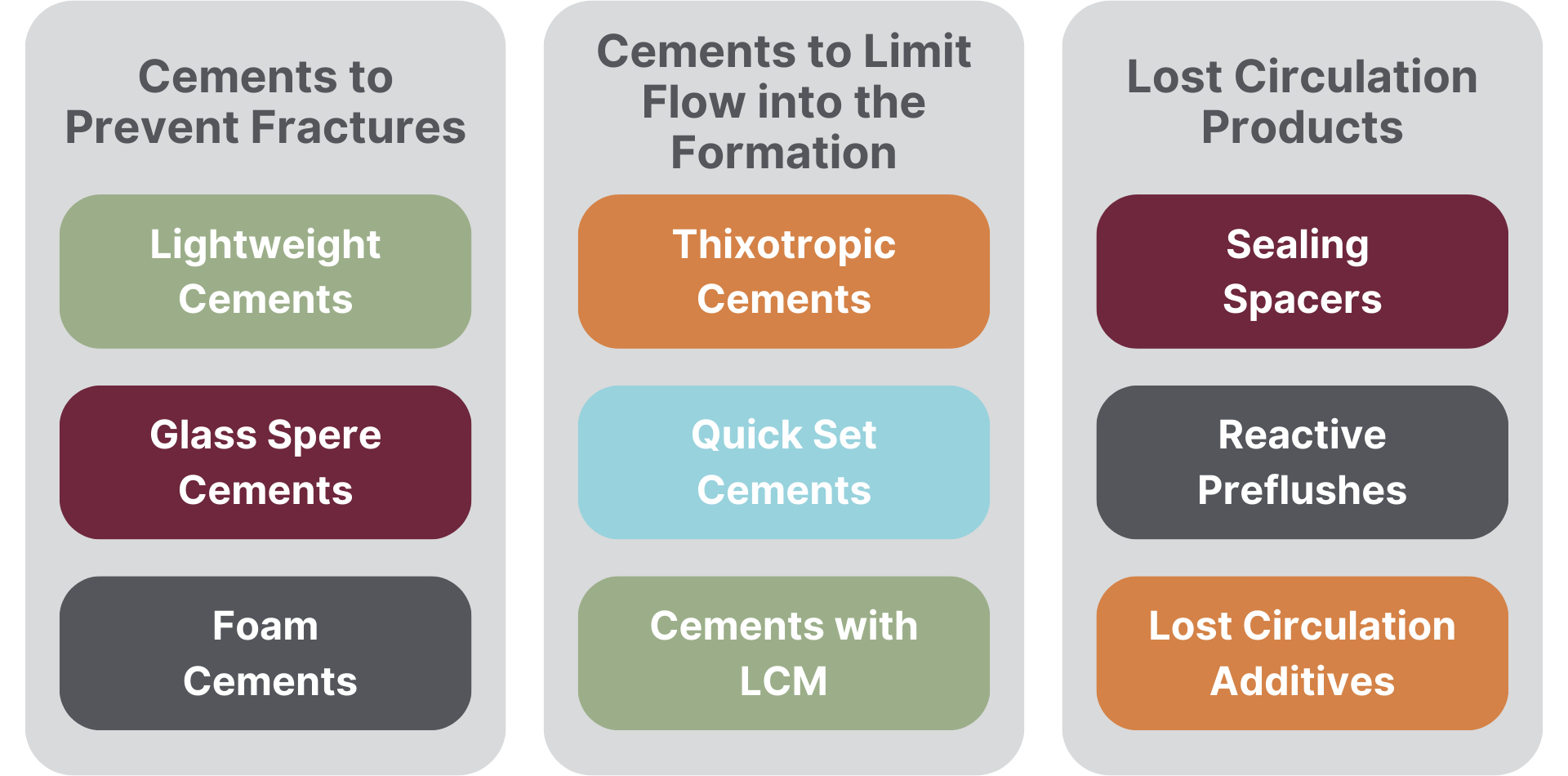 One of the principal functions of a primary cement job is to provide isolation between the various formation zones, including protecting water sources near surface. The most significant and perhaps most common risk to achieving this goal is failing to get cement returns to surface. The causes of lost circulation are generally naturally occurring spaces for fluid to flow through, such as porous rock, vugs and natural fractures. Additionally, they can be created through the drilling or cementing process by exceeding the fracturing gradient in some form and creating a fracture in which fluid can flow out of the annulus.
Sanjel Energy can identify the cause and severity of the losses to determine whether the well is safe to attempt cementing. Our cementing specialists match the best product to a predicted lost circulation concern, leveraging our historical job successes and failures in the geographic area to guide a successful cementing design. Our solutions include advanced cements to prevent fractures and limit flow
into the formation and novel lost circulation products.
Sanjel Energy's solutions for lost circulation
Well Design Change
Well Design Change Options Include:
Lower overall density of the planned spacers and cements
Perform stage cementing to remove full hydrostatic over the problematic loss zone
Pump well stability plug over the loss zone before running casing
Heal or strengthen the zone with fluid pills before cementing
Software Simulations
Once the well design is completed, the cement engineer will use software simulations to understand the predicted pressures across the problematic formations during the cement job to determine if the fracturing gradient for any formation will be exceeded. The key variables to reduce the likelihood of fracturing are density, viscosity, and pump rate. When the design parameters are understood, appropriate product selections can be made.
Lab & Engineering
Aided by Sanjel Energy's suite of lab equipment for preparing and testing cement slurries and advanced simulation software, our engineers convert lab results into well pressure profiles, delivering a complete data profile of the well. With this data in hand, our cementing experts can address complex wellbore challenges, identifying the pumping equipment horsepower and pressure requirements necessary to execute the job safely and efficiently.
Sanjel Energy's Complexity Matrix
A key part of our project process is applying Sanjel Energy's Complexity Matrix. The Complexity Matrix is an innovative, proprietary well evaluation system that aligns the optimum experience level and resources to a job profile. The degree of testing, peer reviews, equipment checks, and redundancies increase with the job's complexity. Our goal is to ensure every aspect of a job has been discussed, analyzed and reviewed, and that appropriate procedures and contingencies are in place.