Remediation and Abandonment
Remedial and abandonment solutions to repair, treat, or isolate your wellbore.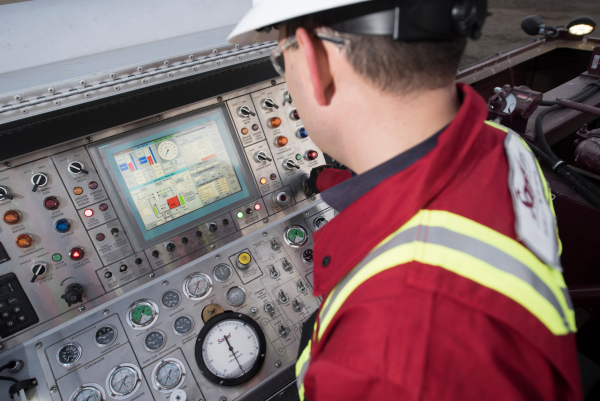 Sanjel Energy's Remedial and Abandonment business line is led by an industry-leading team of operational and technical specialists. With decades of industry experience, our team is focused on delivering the optimum, most cost-effective cementing solutions for your remedial and abandonment needs.
Remedial cementing operations generally consist of two broad categories, squeeze cementing and plug cementing, each tailored to address specific problems with the well. When abandoning a well, it is necessary to isolate potential production zones from other zones, water sources, and the environment, and eliminate all surface casing vent flows.
At Sanjel Energy, we recognize the importance of your remedial and abandonment projects and our goals are to exceed your abandonment requirements, improve your existing well productivity, and eliminate future wellbore issues efficiently and cost-effectively.
sanjel energy's solutions for remediation & abandonment
Remedial and Abandonment Products
Our full suite of remedial and abandonment products enables us to provide progressive, customizable solutions for remedial and abandonment jobs. From nano products to highly thixotropic cavern-filling slurries, we have a fit-for-purpose solution for any situation.
RemedialMix - a particle size distribution reduced weight slurry. The system's weight can be modified as well as post-set expansion to enhance sealing and gas shut-off.
SanSeal - a microfine slurry to manage lower feedrate squeezes and abandonments.
An ultralow feedrate and leak-off system - Sanjel Energy has access to a global third-party sealant that heals cement in place and has proven successful for surface casing vent flows, casing leaks and frac sleeve leaks. It is a one-product system able to be pumped down casing, tubing or coiled tubing, that only reacts with cement that is in place in the annulus, entering microcracks and sealing the annulus, keeping tubing and casing free from setting materials.
Experience & Locations
Sanjel Energy's Remedial team has decades of experience working across the Western Canadian Sedimentary Basin (WCSB) and remote Canadian locations. Our locations and bulk plants are strategically located across the WCSB, allowing us to move equipment, crews and materials to and from the job site quickly and efficiently, minimizing mileage costs and hours of service while reducing the overall environmental impact of the operation.
Equipment & SRPS
Sanjel Energy has a large fleet of industry-leading equipment delivering targeted solutions and ensuring accurate slurry density, rate, temperature and volume readings. For focused squeeze work, Sanjel Energy's Slow Rate Pumping System (SRPS) is a suitcase-style technology designed and built in-house for slow-rate displacement applications. It is compact, easily transferable, and allows for the completion of slow-rate work without needing a secondary pumper or additional personnel on location. The Slow Rate Pumping System improves first-attempt remedial operation success, reduces slurry volumes and time on location, and increases cost savings.
Slow Rate Pumping System Specifications:
Pumping Rates: 1 – 60 L/min
Can be used with any Sanjel Energy pressure-pumping equipment
Pumping Pressures: 0 – 35 MPa
Sanjel Energy's Complexity Matrix
A key part of our project process is applying Sanjel Energy's Complexity Matrix. The Complexity Matrix is an innovative, proprietary well evaluation system that aligns the optimum experience level and resources to a job profile. The degree of testing, peer reviews, equipment checks, and redundancies increase with the job's complexity. Our goal is to ensure every aspect of a job has been discussed, analyzed and reviewed, and that appropriate procedures and contingencies are in place.